LAST WEEK I HAD THIS ENTRY TO PUT IN AS MY 5TH WEEK OF 52 PIECES OF ME. IT'S A GREAT ONE BUT IT'S ALSO VERY SAD AND HARD FOR ME TO PUT IT TOGETHER. I DECIDED UNTIL I GET IT DONE I CAN'T MOVE ON. THIS WEEK I WILL BE DOING MY 5TH AND 6TH WEEK. THIS ONE IS MY 5TH WEEK.
IT IS TOMMY'S MEMORIAL SIGHT AT CORO LAKE WHERE WE LIVE. TOMMY LIVED HERE 50 YRS. WITH HIS 65 ACHER RANCH THAT HE BUILT FROM SCRATCH WOODLAND TO WHAT IT IS TODAY RIGHT NEXT TO WHERE WE LIVE. TOMMY DID SO MUCH VOLUNTEER WORK AROUND THIS LAKE I CAN'T EVEN BEGIN TO NAME IT ALL. HE BOUGHT AND SOLD LAND WHERE BEAUTIFUL HOMES HAVE BEEN BUILT AND HE DID SO MUCH LANDSCAPING I CAN'T EVEN BEGIN TO DESCRIBE IT ALL. I HAVE LIVED HERE 27 YRS.
THE LAKE ASSOCIATION TOOK UP A MEMORIAL FUND FROM ALL OF THE RESIDENTS WHO LIVE HERE AND TOMMY'S SON WHO OWNES A LANDSCAPING BUSINESS DONATED ALL THE WORK. THE MEMORIAL WAS PUT OVER ON THE LEVE NEAR THE DAM AND SPILLWAY WHERE ALL THE RESIDENTS GATHER FOR COMMUNITY PARTIES AND FISH FRIES ALL THROUGH THE YEAR. IT'S A BEAUTIFUL PLACE ON THE LAKE AND IT'S ALWAYS FUN TO EAT FRESH COOKED FISH OUT BY THE LAKE WITH ALL OF OUR NEIGHBORS.
THIS IS THE LAST TIME WE WERE AT THE LAKE FISH FRY WHERE THE MEMORIAL IS NOW. IT WAS JUST A FEW WEEKS BEFORE HIS ACCIDENT. THIS IS TOMMY AND ELIZABETH ( MY DAUGHTER )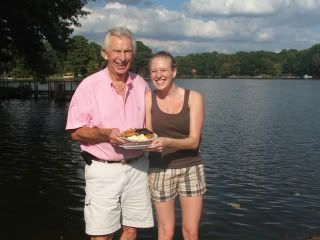 THIS WAS TAKEN ON NEW YEARS AND ONE OF MY FAVORITES OF US TOGETHER.
TOMMY WANTED THE MAIN SONG PLAYED AT HIS FUNERAL MY WAY AND WE DID
HE DID HIS LIFE HIS WAY AND IT WAS ALWAYS ALWAYS HELPING OTHERS AND HAVING FUN, MAKING EVERYONE HE WAS AROUND HAPPY AND TRYING TO MAKE THIER LIFE AS WELL AS ALL OF THIER FAMILIES A BETTER WORLD TO LIVE IN AND EVERYONE A HAPPIER PERSON WHEN THEY SAW HIM.
TOMMY ALWAYS MADE ME PROUD TO SPELL HIS NAME A WONDERFUL M-A-N. MY LIFE WILL ALWAYS BE A BETTER PLACE TO ME FOR ALL THE THINGS WE DID AND SHARED.