I
T'S ELIZABETH'S BIRTHDAY WEEK.




THIS IS HER DADDY AND MY FIRST LOOK AT HER AFTER SHE WAS BORN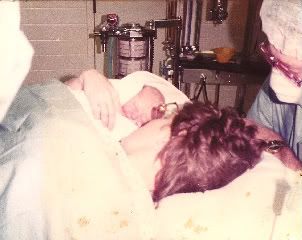 ELIZABETH WAS BORN MARCH 19TH 1983 MY SECOND CHILD AND YOUNGEST DAUGHTER. SHE IS NOW 26 YRS OLD. HER DADDY AND I DATED 13 YRS BEFORE WE GOT MARRIED AND HAD ELIZABETH. I WAS A STAY AT HOME MOM UNTIL ELIZABETH WAS AROUND 17 OR 18. ELIZABETH HAS ALWAYS LIVED IN THE SAME HOUSE EXCEPT FOR JUST A FEW MONTHS. SHE IS NOW BACK HOME LIVING WITH ME IN THE SAME HOUSE. SHE WENT TO THE SAME SCHOOL HARDING ACADEMY, KINDERGARDEN THROUGH THE 12TH GRADE. ELIZABETH WENT TO ARIZONA FOR A SHORT TIME TO GO TO COLLEGE BUT FOUND THAT COLLEGE TO BE MORE ABOUT MONEY THAN TEACHING SO SHE CAME BACK HOME WITH ME AND WENT TO CHRISTIAN BROTHERS COLLEGE AND GRADUATED IN FINANCIAL BUSINESS. SHE NOW WORKS AT A BANK. SHE LOVES DANCE AND HAS BEEN TAKING DANCE CLASSES FOR THE LAST 10 YRS. BUT STARTED DANCING WHEN DIRTY DANCING CAME OUT WHEN SHE WAS 4 YRS OLD. SHE TAKES BALLET, JAZZ, MODERN, AFRICAN AND HIP HOP BUT LIKES BALLET THE BEST I WOULD SAY. ELIZABETH HAS MANY INTEREST GROWING FLOWERS, COOKING, DIETING, EXERCISING AND A HUGE HEART FOR THE LORD AND HIS WORD. SHE IS BEGINNING TO HAVE A GREAT INTEREST IN TEACHING AND IS NOW WORKING ON BEING A TEACHER. MATH AND FINANCE SEEM TO BE HER GREATEST INTEREST BUT THERE ARE SEVERAL AREAS IN EDUCATION SHE IS LOOKING INTO.

ELIZABETH IS LOOKING FORWARD TO WARM WEATHER SO WE CAN GET OUT AND HAVE SOME BOOGY WOOGY TIME TOGETHER. THE DAY AFTER HER BIRTHDAY IS THE FIRST DAY OF SPRING SO HER SPRING DAY DREAMS ARE JUST AROUND THE CORNER.

IF YOU WOULD LIKE TO HEAR THIS VIDEO GO DOWN TO MY MUSIC PLAYER AND TURN IT OFF FIRST THEN
TURN ON THE MUSIC VIDEO




HERE IS A SLIDESHOW OF JUST PART TO THE THINGS ELIZABETH LOVES.



I'VE BEEN LOOKING FOR SUNSHINE FOR WEEKS AND AS I WAS MAKING THIS FOR YOU ELIZABETH THE SUN CAME OUT JUST LIKE YOU HAVE ALWAYS MADE IT DO FOR ME WHENEVER I SEE YOUR SMILING FACE COMING MY WAY. WE'VE SEEN SOME ROCKY ROADS AND BEEN DOWN THE ROAD OF LIFE ON MANY TWIST AND TURNS BUT MOST OF ALL WE HAVE SHARED SO MANY MANY WONDERFUL THINGS AND TIMES TOGETHER. HAPPY BIRTHDAY MY QUEEN ELIZABETH VICTORIA LYNN SMITH. I'M LOOKING FORWARD TO MANY WONDERFUL DAYS AHEAD FOR THE SPRING AND SUMMER WITH YOU. HAPPY BIRTHDAY AND I HOPE ALL YOUR DREAMS FOR THE NEXT YEAR COMES TO YOU WITH THE GREATEST OF EASE. I LOVE YOU MOMMA

LAST BUT NOT LEAST YOUR BIRTHDAY POSTING COULD NOT BE COMPLETE WITHOUT